Our People
Justin SANTIAGO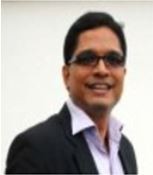 Justin Santiago
Director Nanyang IP Sdn Bhd
Qualifications
•
Registered Patent Agent, Malaysia
•
Master in Business Administration, Bristol University, United Kingdom
•
Bachelor of Law (Honors), University of London, United Kingdom
•
Bachelor in Applied Science, Universiti Sains Malaysia, Malaysia
Experience
Justin manages the vast patent and trademark portfolio in Malaysia. He ensures prompt and timely prosecution of all Malaysian patent and trade mark applications and renewals.
He has written extensively on intellectual property and other legal issues for newspapers and magazines both locally and internationally. 
Justin holds a Bachelor of Law (Honours) from the University of London and a Bachelor in Applied Science from the Universiti Sains Malaysia. He also holds a Master in Business Administration from Bristol University and is a registered patent agent in Malaysia since 1995.